João Queiroz Jr. I believe that learning should be effortless, mobile-first, and fun.
JoaoQueirozJr
Community Member, Lectora® Accessibility Group (LAUG) Member, eLearning Brothers® Partner
Posts: 2
☆ Roadie ☆
That's why I create and deliver engaging micro-courses. My courses are perfect for busy professionals who want to learn on their own schedule and on their own terms. Plus, my content is always up-to-date, so you can stay ahead of the curve in your field. Ready to get started?
I've been using
7taps
to create mini "language courses for
SFI
" style decks, which is a mobile-friendly alternative to the traditional Powerpoint-style slide decks and allows me to send ideas or prototypes to my boss and the teachers via text, email, or QR code.
I came for the novelty and stayed with 7taps for the endless possibilities. Now I have a tool that enables me to create, deploy, and measure great courses on the fly and achieve an almost perfect course completion rate. it is a must-have.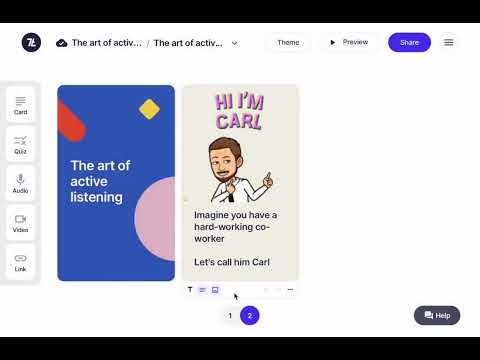 INSPIRATION IDEASOnboarding:
Internal Networking: The Secret to Bee-ing All You Can Bee
Diversity:
How to Use Gender-Inclusive Language and Why Does it Matter?
Personal development:
Scarcity Vs Abundance Mindset
Career:
Five Interview Tips to Help Land My Dream Job!
Communication:
5 S's of Successful Speaking
Language learning:
Hi there! How about hanging out with some English Phrasal Verbs?
Elearning:
Plan an Online Course in 3 Simple Steps
Design:
Shadow rules
It is offering the future of student / employee training —with an experience that's familiar, fun, and makes them WANT to learn.
IDEAS TO HELP BRANDS WE LOVE

Plus, it's so much more than just microlearning for training purposes —you can use it for ANY kind of instruction.
If you need help assembling your IKEA furniture you can access the instructions at any moment. Just look for any product in the search bar above and find its assembly instruction available on the product page for you to download as a PDF.
IKEA should get on board here — scan a QR code on your furniture and forget about that 17-page stick figure instruction manual— yes, please).
Honestly, at the rate the
7taps
team is developing and shipping new features, I'm sure whatever I thought of writing here would be outdated in a matter of weeks (if not days).
Every time I log in, I'm impressed by the new features they've added.7taps is a FREE tool to create, deliver and track mobile-first microlearning experiences.
Try it for free now
.
Tagged:
Categories
34.1K

eLearning Brothers® Products

33.6K

Lectora®

16

Asset Library

301

CenarioVR®

36

Rockstar Learning Platform®

4

Off-the-Shelf Course Library

114

CourseMill®

44

ReviewLink®

2

The Training Arcade®

10

Additional Learning Products

930

All Things eLearning